Kids & Youth
We ♥︎ Our Kids.
Being adopted into God's family is something special and we desire for our kids to understand what that means, but most importantly, to see that lived out each and every day. One of the most essential elements for a child's spiritual development is their family, and it is of great importance to us to help equip parents to love and instruct their children well.
A Note to Parents
The calling we have as parents is high and the road can be challenging, but the good news is this stewardship of shepherding our children is meant to be done in community. To say it another way: you were not meant to do it alone!
Being an active part of a healthy church family is where we are encouraged and equipped for the highs and lows of parenting, and only in being connected to Jesus does He enable us to continually receive His grace and extend forgiveness to others as a living picture of His Gospel.
Ministering to Our Children
Oftentimes a Sunday School or youth ministry is one of the first things people look for in a new church home, and as a new church, we invite you to use your gifts and skills to build up the next generation. Our elders have created a Pathway that is not only for you, but can also be adapted to the family; now we are asking God to give us co-laborers to enact the plan.
If you want to get involved or know more about the process of serving kids and youth at River of Life Church, please contact us.
Younger Children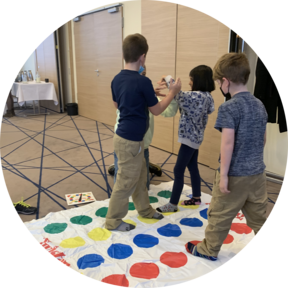 We are excited to announce that a dedicated children's ministry is underway! After months of praying, plans are in the works to begin a pilot program from now until the end of 2022.
We are working closely with parents and volunteers to begin a new chapter in River of Life Church. Stay tuned for more information...
My Church Notebook
We are happy to be able to give these creatively structured notebooks to our elementary aged children to interact with the sermon message. By listening for answers to questions and making notes of things they might not yet understand they are challenged to grow in their skills and understanding.
Utilizing the My Church Notebook can be a great way to engage your child during the week, discussing God's Word at home! In conclusion, as children observe and join believers in worship, our hope is that over time they learn to concentrate on God and see His greatness for themselves. Read more at Truth:78…
Youth
At River of Life Church we see the blessing of having our older children with us for the Sunday Gathering. Just like the adults and kids, the Gen Zers are weekly hearing God's Word preached and seeing a community centered around Jesus in action.